for W3c validation
Product strategist & community builder with 10+ years of cross-functional experience in the sharing economy, real estate, & travel industries. 3 times promoted in-house. Conceptualized & led 2 bootstrapped travel apps, reaching 15k+ total global users.
Hey there!
If you made it to this page, you must be wanting to learn more about me (since you clicked that "About" link). Where to start, where to start…
Before we actually start this process of explaining where I come from, what I do, and why I do what I do, let's get one thing straight. I'm very privileged and I know it. YOU are too . If we can't agree on that, I'm sorry, but we aren't going to have much in common.
With that said, let's continue…
For starters, my name's Drew Meyers (legal name is Thomas Andrew Meyers) and I grew up about 20 minutes east of Seattle. If you've read this blog, Geek Estate, follow me on Twitter or Facebook, or met me in person, you undoubtedly know I'm a travel addict. I've visited 40+ countries since I took my first international trip at the age of 22 in 2005 following graduation from University of Washington. That trip was followed by 5 years working at Zillow living in Queen Anne. After living a nomadic life from 2010 and 2015, I'm back living in Seattle permanently.
Current Project
What am I working on? I'm the co-founder of Horizon, a private home sharing & community engagement app.
Our long term goal is to connect like minded people in person. Of course, providing hospitality to someone is as intimate a relationship as you can get without actually sleeping with someone.
Why?
Nothing happens in life without great relationships. And great relationships start as connections, and turn into real trusted & valuable relationships only after in person time is added to the mix. Networking, and finding those right relationships, is a horribly inefficient process – particularly when travel is thrown into the equation.
Our current product is the first step in realizing that vision.
Do you give a damn?
Horizon is our 2nd attempt at making community accessible globally — Oh Hey World was the 1st. Oh Hey World was Foursquare at the city level; the easiest way to share your arrival in a new city with those who care — via text, email, Facebook, Twitter, and even to a WordPress.org blog via our plugin — with one simple click. We certainly learned a lot over the two years, which you can read more about here. The high level summary: location sharing is simply not a pain point for most travelers.
We finally closed OHW's digital doors in June of 2017.
Values & Motivations
What motivates me in life? Short version: Impact. Longer version: Read here.
I believe life is about more than money; it's about spending time with passionate people,  giving back to others, and making the lives of others' better. Since I discovered Kiva in 2007, my philanthropic focus has remained in the microfinance realm. As a result of following that passion, I co-founded myKRO.org in 2008 with Jerry Ostradicky.
This quote from Will Smith resonates loud and clear with me:
If you're not making someone else's life better, you're wasting your time.
Travel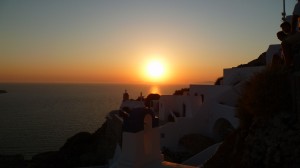 I think the fact that I love traveling is apparent given my extensive travels since my first trip abroad in 2005. When I left my amazing job at Zillow in early 2010, people thought I was crazy. I had the job everyone wanted — doing online marketing & getting paid to travel around the country for a well funded internet startup founded by the man who started Expedia. But I hit the 5 year mark, and had become a bit restless with my current role — and took off and spent almost all of 2010 traveling. That included a 6 week road trip around the Western US and then 7 months abroad including a two week trip to Tokyo and Seoul, the best f'ing summer of my life living on Santorini, a month in Spain, followed by a month in both Kenya and Ghana. I tell you, particularly for those who have never ventured outside the USA, Africa is like nothing you've ever experienced before. I really don't know how to describe it, but to say "surreal". Despite the fact that they have literally nothing, the people in Kenya and Ghana were filled with happiness 24 hours a day, 7 days a week. That's a far cry from the materialistic bullshit you see in the United States.
When I finally ran out of money and came back to the United States, I took a job at Virtual Results running marketing — and worked there for roughly a year before I decided to hit the travel trail again in late 2011. I spent from late December until mid May in Southeast Asia (Thailand, Cambodia, Laos, Philippines), May and June in San Francisco and Seattle, July through August in Sweden, Belgium, Holland, and Spain, 2 weeks in Bali for Startup Abroad in late August, and spent the last part of 2012 until early 2014 split between San Francisco, New York, and Seattle. After that, we were accepted to Startup Chile and went to Santiago for the program in July of 2014.
Since my return to Seattle, I moved back to Queen Anne and consulted for a range of real estate companies including StreetAdvisor and 360modern.
Why do I travel? Aside from the obvious answer of broadening my horizons, I'm on a quest for something fulfilling and purposeful. And I can. So, why not is the better question.
More Details
One of my favorite past times is reading. I absolutely love a good book — and my Kindle was the best purchase I've ever made. Never again will I lug around paper books on the travel trail. Some of my favorite books of all time include Scar Tissue (Anthony Kiedis' autobiography), Pillars of Earth, World Without End, Fall of Giants, all of Dan Brown's books, The Alchemist, and The Game of Thrones Series.
I'm spiritual and believe there is a higher purpose in life, but am not at all religious.
The political system in the USA sucks and I try not to follow it. That said, I'm certainly very liberal on the majority of issues and tend to vote Democrat — but I don't believe in political "parties". It should be about the issues, not the "party" (what does that mean anyway?).
I'm a big picture, strategy, and marketing guy. Whether it be business strategy, a car motor, dishwasher, a pick and roll play, or networking — I quickly grasp how everything is pieced together. Details aren't my strongest suite. Creating and doing is.
It's turned out to burn me a few times, but — for better or for worse — I am loyal to a fault. Once you gain my loyalty and trust, I'll stick by you no matter what.
When you meet me in person, you'll probably notice I'm not the most outgoing person to strangers that you've ever met. Contrary to my public persona, it takes me awhile to get comfortable enough with someone to really open up — but my true friends know the "me" that resides under the surface.
Here's a list of things I'm going to do before I die (work in progress).
Work hard, play hard.
Income
Somehow, over the years since departing Zillow – I still had to cover my travel expenses, right? I made some income from ESM Exec Designs, a website design firm I founded a couple years ago specializing in corporate and personal blog design. I did brand consulting back in 2010, worked for Virtual Results (virtually) in 2011, and also make a small amount of money from Geek Estate Blog. My main revenue is product strategy & marketing consulting in the real estate industry for startups, which I operate as Geek Estate Labs LLC. I'm also building Geek Estate, a private community of real estate innovators.
My Background
What's my childhood and professional background? Well, for the curious folk, read on if you must…
My childhood was spent moving between Bellevue, Preston, and Bellevue again — before finally landing in Issaquah (technically, its now Sammamish) living on Lake Sammamish where I resided from 4th until 12th grade. A member of the first freshman class ever at Skyline High School in 1997, I graduated in 2001. Raised by a single mother, I never struggled for money growing up, but was never well off like many of my friends' families. Despite attending a very "preppy" and materialistic high school, I had a close group of friends, and a few GREAT ones who I still keep in touch with. Oh yea, I almost forget to mention Skyline won the State Football Championship my senior year. Go Spartans!
I went on to attend & graduate from the University of Washington in June of 2005 with a Business Administration degree. After one year in the dorms, I signed with Sigma Phi Epsilon, and was on the executive team during WaBeta Chapter's migration to the Balanced Man Program in 2004. My Spring quarter of my senior year, I interned with Tim Reha at Venture All Stars – an experience that truly changed my life for the better. Tim introduced me to the small business and startup world — and I never turned back.
Following a two month trip to Europe (13 countries) that set a string of irreversible events in motion (external link), I landed an internship at Zillow in September of 2005. I worked there through January 2010, managing Zillow's API program and various online partnerships.
What's next?
Regardless of what happens as I progress in my professional career, real estate will retain a part of my heart. Throughout the 12+ years I've spent in the industry, first with Zillow and then Virtual Results, StreetAdvisor, and Geek Estate Labs, I've developed amazing friendships with a number of agents and brokers — people like Kris Berg, Lori Bee, Doug Heddings, Jay Thompson, and Ines Hegedus-Garcia. I feel fortunate to have been immersed in an industry that everyone can relate to at some level during one of the craziest times in recent memory (the 2008 recession).
After 7 years of consulting and bootstrapping startups (Oh Hey World & Horizon), I've decided to take the next step in my career and search for full time opportunities. Where I'll land is still up in the air.
— Drew
PS: I still have a hunch I will end up in the Big Apple – aka NYC – someday. It's been an itch of mine since 2009, and I plan scratch it at some point soon.
Whether you need a new mobile app developed or want to understand the website creation process, SEO help, want to chat about microfinance, have a travel question you can't find the answer to, or anything in between — I'd love to hear from you. I'm not hard to find. My email addy is drew@geekestatelabs.com — so fire away.
Fan of
Red Hot Chili Peppers, Top Gun, Spy Game, Seattle Mariners, Ken Griffey Jr, Seattle Seahawks, Michael Jordan, Zillow, my Macbook Air, Kindle, Santorini, cats.
PS: The Yankees and Lakers SUCK.
Blogs to Find My Writing:
Here is a list of my other published pieces on other outlets.
Wow, you're still reading? If you want the "professional" version of this bio, that can be found RIGHT HERE.