for W3c validation
Lauren has mastered something the vast majority of the world has mastered too — how NOT to travel. Whereas most people master it by literally NOT traveling…anywhere. Lauren has mastered how not to travel for another reason entirely — somehow, someway, crazy things happen to her at every turn. I first met Lauren while I was in Chiang Mai early last year. While I didn't get to know her that well in Thailand, partly because she is shy around people she doesn't know well (as am I), I've had the good fortune to talk in more depth over drinks with both Dave (we did an interview with him, too) and Lauren in Seattle, and again in Portland over the past few months – and got to know her a bit better. Her curiosity for the world is fully apparent through her writing and talking to her about her journeys.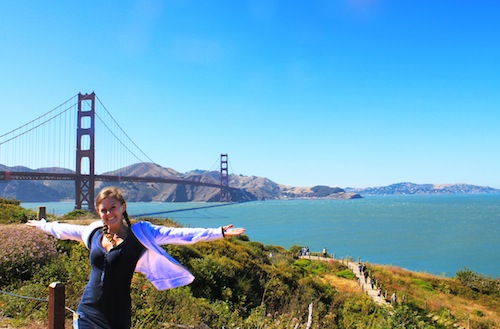 Read on to hear more straight from her own voice…
1) What do you do?
I'm a physicist turned full-time traveller, blogger, freelance writer and editor.
In 2011, I left England on a one-way ticket with the intention of spending a year travelling around the world. It took just a couple of months for me to realise that I wanted to pursue this lifestyle for the foreseeable future. It's been just over two years and I've never been happier.
2) What was your biggest obstacle to traveling and how did you overcome it?
For much of my teenage-to-adult life I've suffered from anxiety in one form or another. It was at its most debilitating around seven years ago where, for an entire year, I was unable to leave my apartment, couldn't keep a job or go to lectures, destroyed a relationship, lived on one apple a day and had panic attacks on an hourly basis. I was out of control, dangerously thin, and my life was a mess.
Turning it around was one of the hardest things I've done and I still can't believe I've somehow managed to morph from the girl who couldn't step outside without having a panic attack to someone who can now travel around the world — occasionally even fearlessly!
Travel has actually been fantastic for my anxiety, and I've had fewer than ten panic attacks during the two years I've been on the road. Being completely in control of every aspect of my life has definitely had a calming effect.
3) What are you most excited about right now?
I'm writing a book! Over the past two years I've had some of the most ridiculous travel experiences:
In Bali, I was attacked by monkeys and fell off a bicycle into a rice paddy.
In Cambodia, I fell over, spraining my knee and infecting my leg, was attacked by jellyfish, had an allergic reaction to some sandfly bites, had a fish swim into my bikini bottoms and poured a margarita over my laptop — all within the space of a week.
In Laos, I had a woman die on the boat I was on, and accidentally ate cockroaches.
In Thailand, I was, erm, violated during a massage, abandoned at the Burmese border by my bus, had the brakes on my scooter fail as I was riding down a mountain and ended up on a sinking boat in the middle of the ocean.
The list goes on…
I've recently decided to compile all of these incidents into one big guide to how not to travel the world.
4) What's next for you?
I've just moved to Sayultia, in Mexico, where my only plan is to live cheaply on the beach with good food, sunsets and lots of writing. This is my first time in Latin America and I'm aiming to spend just over a year working my way down towards the bottom of South America.
5) What's a cause you're passionate about and why?
Educating and helping others who are struggling with anxiety. I gained control of my anxiety without the help of medication or therapy and so I now actively participate in online communities and on health blogs to share my techniques and success story. So many people think that the only way out is to throw money at pills and therapists so I love to share the alternative route that can often be just as successful.
A big thanks to Lauren for sharing her successes and projects; if you'd like to connect or find out more about Lauren's recent travels, you can find her on her OHW profile.
Lauren on Twitter
Never Ending Footsteps travel blog
---
We regularly feature inspiring travelers who have taken the leap into travel as a part of our travel inspiration interview series. If you're a traveler keen on being profiled here, sign up for an OHW account and fill in your profile — then shoot Shannon an email (shannon at ohheyworld dot com).
The post Travel Inspiration: Thoughts from Lauren Juliff appeared first on Oh Hey World.