for W3c validation
What is it?
Simple.
Spiked Peanut Butter.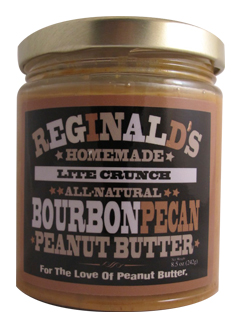 Enter Bourbon Pecan Peanut Butter (by Reginald's).
Are you kidding me? Peanut butter, which is utterly amazing on its own, teamed with bourbon? How could it get any better than that? Oh yea, more bourbon. College would have been even more awesome if we had thought to spike peanut butter & jelly sandwiches to bring to class. My mind is racing with possibilities. PB & rum? PB & vodka? PB & tequila? PB & jager (gross)?
Hands down, Spiked Peanut Butter is the best creation ever. Now, if only I could find peanut butter abroad – I'd be all set.
PS: My friend Katie gets the hat tip for cluing me into this amazing recipe for fun.